Wed., Jan. 18, 2012, 9:32 a.m.
Carlson: Joe Peak Vs. Hitchens
(Syndicated columnist) Kathleen Parker will never meet Joe Peak (pictured). It's a shame because he too is an iconoclastic, one of a kind character. For years Joe has operated a well-known watering hole a few miles off of I-90 up the North Fork of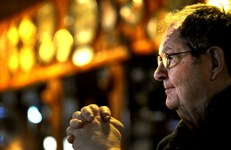 the Coeur d'Alene River, a former bordello called the Snake Pit. Full of ambience and odd historical relics, as well as Joe and wife Rose Mary, it has been a must stop for years for thousands of fly fishermen seeking a burger and an adult beverage, along with advice on where to find the wily cutthroat. In recent years additional hundreds of bicyclists traveling the 76-mile Trail of the Coeur d'Alenes from Plummer to Mullan have made it a must pit stop. Joe is the epitome of Will Rogers' old saying that he'd never met a man he didn't like. Always gracious, the Wyoming native and intrepid follower of his Wyoming alma mater's football team, the Cowboys, he is as good a listener as he is story teller. Joe and Rose Mary walk the talk of "faith, family and friends"/ Chris Carlson, Carlson Chronicles. More here.
Question: Who is most iconoclastic person you've met?
---
---