Wed., Jan. 18, 2012, 8:28 a.m.
Rachel: MLK Wasn't Passive
Harlem Renaissance (Rachel Dolezal) re: Christie: Disagree with counterprotest: I'd like to add a few responses to clarify, because I believe a false dichotomy is being created here. Why is the question education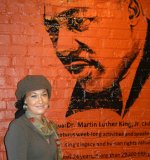 or protest? A true Dr. King approach is both. I am an Educator by profession. I began my work in Mississippi and have continued human rights and intercultural education at the university and public school level after leaving my affiliation with HREI. Yes, that's part of the solution. I will never minimize that. But to pretend that protest is not acceptable, needful or that it was not part of Dr. MLK's path is to not fully appreciate the Civil Rights Movement. The entire movement was based on DOING something rather than sitting by, ignoring things and letting the gravity of human depravity run its course with ongoing Black Codes and Jim Crow laws. The sit-ins were active, not passive. The marches were active, not passive. The voter-registration was active, not passive. Non-violent (on the part of those who championed equality) and tasteful? Yes, but passive? No. More here.
Question: When would you know that the time is ripe for counterprotest?
---
---