Mon., Jan. 23, 2012, 3:22 p.m.
KEA Backs Tubbs Hill Access Plan
After several months of study and discussion, tonight (Monday) the City of Coeur d'Alene's Parks and Recreation Commission will officially consider a consensus recommendation to retrofit a Tubbs Hill trail to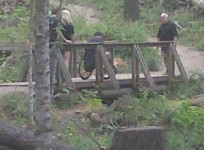 accommodate wheelchair accessibility. Last spring, the City Council separated Tubbs Hill from the McEuen Park project and formed a task force to take a comprehensive look at Tubbs Hill trails. The task force, which included representatives from the Tubbs Hill Foundation, KEA, and the disability community, met through the fall. At the final meeting in December, the group unanimously agreed to recommend that the existing east side trail become the first wheelchair-accessible trail on Tubbs Hill. Meanwhile, the task force also unanimously recommended that any further consideration of a new, north-side trail, be tabled until the east-side trail is completed/Terry Harris, KEA Blog. More here. (KEA courtesy photo)
Question: Do you agree that Tubbs Hill trails should be wheelchair accessible?
---
---