Mon., Jan. 23, 2012, 12:18 p.m.
Noon: Nazis Don't Want Media Stories?
I need to set the record straight on an issue that seems to be being misunderstood by many. Never once did I or any members of White Knights ask for media at our events. We do not need the liberal misguiding media to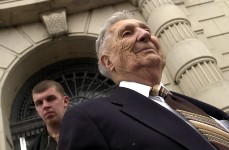 send our message. As a matter of fact I would like to thank the varios media outlets that chose to not cover stories about us. I find it better for community members that see us out at demonstrations to be able to come right up to us and get solid facts right from us rather than hearing it through the media that only seems to print what they want to about a particular issue. So I ask the media to please continue to not cover our demonstrations so we can continue to get facts out to the communtiy/Shaun Winkler, White Knights of Ku Klux Klan, Spirit Lake. More here. (2001 SR file photo of Shaun Winkler, background, leaving Kootenai County Courthouse with Richard Butler in Aryan Nations bankruptcy civil trial)
Question: Do you believe Winkler when he says he doesn't want media coverage?
---
---