Tue., Jan. 24, 2012, 8:31 a.m.
'Hugo' Lands 11 Oscar Nominations
Martin Scorsese's Paris adventure "Hugo" leads the Academy Awards with 11 nominations, among them best picture and the latest director slot for the Oscar-winning filmmaker. Also nominated for best picture Tuesday: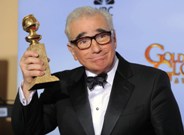 the silent film "The Artist"; the family drama "The Descendants"; the Sept. 11 tale "Extremely Loud & Incredibly Close"; the Deep South drama "The Help"; the romantic fantasy "Midnight in Paris"; the sports tale "Moneyball"; the family chronicle "The Tree of Life"; and the World War I epic "War Horse." The nominations set up a best-picture showdown between the top films at the Golden Globes: best musical or comedy recipient "The Artist" and best drama winner "The Descendants"/AP. More here. (AP photo: Director Martin Scorsese poses with the award for Best Director of a Motion Picture for the film " Hugo" during the 69th Annual Golden Globe Awards Sunday)
Question: Have you seen "Hugo"? Brief review?
---
---