Tue., Jan. 24, 2012, 1:13 p.m.
Obit: Rose Mary Peak, 65, Snake Pit
Following is the obituary of Rose Mary (Poelma) Peak, co-owner of historic Enaville Resort (Snake Pit), as it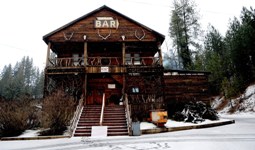 appears in Coeur d'Alene Press today: "Rose Mary was born on Jan. 13, 1947, in Cheyenne, Wyo., and died on Jan. 20, 2012, in the presence of her loving family at Hospice House in Coeur d'Alene. Rose Mary was the second of four children of Jim and Eileen Poelma. She grew up in the rural farming community of Carpenter, Wyo., 20 miles southeast of Cheyenne. She lived in a community, school and family where faith and music went hand-in-hand with the hard work of farming. Her grandmother taught her to play the piano at an early age, and the rest of her family often played music together as a group, whether it was during informal family gatherings or for barn dances." More here. (Kathy Plonka SR file photo: Enaville Resort)
Reaction?
---
---