TUESDAY, JAN. 24, 2012, 8:21 A.M.
Romney To Pay $6.2M In Taxes
Mitt Romney released his 2010 tax returns and an estimate for 2011 showing he is likely to pay $6.2 million on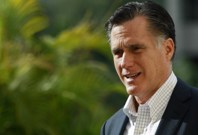 income of $42.5 million over the two-year period. Romney's tax information -- covering more than 500 pages -- can be found on his website. The tax records show Romney and his wife, Ann, paid an effective tax rate of 13.9% on their adjusted gross income in 2010. The estimate is 15.4% for 2011. How does Romney's effective tax rate compare with other Americans? The average effective tax rate of American taxpayers is 11% on adjusted gross income, according to an analysis by the non-partisan Tax Foundation. Millionaires pay about about 25%, the foundation says/USA Today. More here. (AP photo)
Question: Is Mitt Romney paying his fair share of taxes?
---
---