Tue., Jan. 24, 2012, 3:11 p.m.
SR: Stopping Violence In The Cards
There's new hope for victims of domestic violence in Idaho. Attorney General Lawrence Wasden and the Idaho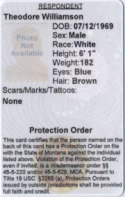 Sheriff's Association have begun issuing wallet-size "Hope Cards" to people who have obtained long-term civil protection orders against spouses, former spouses, stalkers or anyone else. On the front are the names of those being protected, the court that issued the order, the order number and the date it was issued. On the back is the name of the person ordered to stay away from the holder, a date of birth, physical description and, most importantly, a picture. Court-issued paperwork is far less convenient and far less useful because it lacks a photograph/Spokesman-Review Editorial Board. More here. (Photo: front of Hope Card, issued by state of Montana)
Question: Do you know someone who could use a "Hope Card" for protection?
---
---