Tue., Jan. 24, 2012, 8:47 a.m.
Washington Same-Sex Marriage Near
As supporters and opponents packed hearing rooms Monday around the Capitol, Washington moved a step closer to legalizing same-sex marriage when the proposal gained its crucial 25th vote in the state Senate.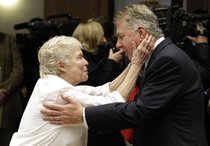 State Sen. Mary Margaret Haugen, D-Camano Island, announced she would vote yes on Senate Bill 6239, giving it a majority in that chamber. The companion bill, HB 2516, has the votes necessary to clear the House, said Rep. Jamie Pedersen, D-Seattle, and Gov. Chris Gregoire has called for the Legislature to pass such legislation. Barring some unexpected shift, that suggests Washington would be the seventh state in the nation to pass a law on same-sex marriage. But it would be the first state where voters have the ultimate say on a bill passed by the Legislature/Jim Camden, SR. More here. (AP photo: Jane Abbott Lighty greets Sen. Ed Murray, D-Seattle, after hearing the news that Sen. Mary Margaret Haugen, D-Camano Island, had announced her support for legalizing same-sex marriage)
Question: Will Idaho pass same-sex marriage legislation some day?
---
---