Wed., Jan. 25, 2012, 1:03 p.m.
Batt Blasts Denney, Semanko Suit
If Republican leaders try to hijack the redistricting process, they run the risk of compromising years of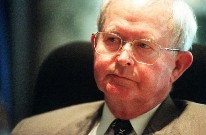 "remarkable success" at the polls. That's the assessment from one of the architects of the GOP's success — Phil Batt, a former governor, lieutenant governor, legislator and state Republican chairman. Batt submitted a guest opinion today, criticizing House Speaker Lawerence Denney and GOP Chairman Norm Semanko for trying to fire redistricting commissioners Dolores Crow and Randy Hansen. Writes Batt: "Our party leaders want to sully the reapportionment process for more political gain. I guess they want 100 percent Republicans of their own variety (Dolores and I probably don't qualify)/Dan Popkey, Idaho Statesman. More here. (AP file photo of Phil Batt)
DFO: And you wonder why I continue to consider Phil Batt the most effective governor of my 30 years in North Idaho? I finally figured out what kind of Republican I am. I am a Phil Batt Republican -- one who respects fair play and common sense over the hardline zealotry of those now in charge of the Idaho GOP.
Question: Is former Gov. Phil Batt right? Will continued heavy-handedness by Norm Semanko and GOP leaders undercut the Idaho Republican Party?
---
---