WEDNESDAY, JAN. 25, 2012, 8:25 A.M.
Delegation Reacts To Obama Speech
Tonight's speech was different than President Obama's previous three versions with him now clearly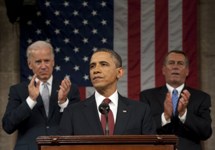 switching to campaign mode. He talked about the exceptionalism of the American people and how they are the key to our country's greatness. I agree, and I also agree with many of the ideas he set forth in his speech. Unfortunately, his words tonight did not match the policies he has put forth over the past three years when we have seen record debt, unemployment and layers of new regulation/U.S. Sen. Jim Risch, via Kevin Richert/Idaho Statesman. More here. (AP photo: President Barack Obama with Vice President Joe Biden and House Speaker John Boehner, right, in background)

Question: What did you think of the president's State of the Union speech?
---
---