Wed., Jan. 25, 2012, 1:26 p.m.
Different Approach To Bullies Needed
Deborah Glasscock, a Nampa therapist, relates her own story of being bullied as a child in the Idaho Press Tribune and then points out that we're taking the wrong approach to stopping bullism: "So why do I bring up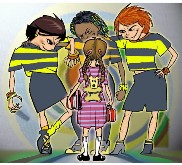 this story that is still painful today, over 40 years later? Because I see today an approach towards bullying that is both misguided and dangerous. Walking into a local middle school, I saw a "No Bullying" sign, followed by a list of protected categories: race, religion, sexual orientation, gender, etc. Whew, I thought. At least they didn't have my vulnerabilities at the time of bullying listed: thick glasses, short, awkward, opinionated, teacher's pet, etc. What a horror that would be! Pointing out the vulnerabilities of those bullied serves only to "blame the victim," increasing the intrinsic shame that the bullied already bear. This approach is misguided." More here. (AP file illustration of bullies)
Question: Were you ever bullied in school?
---
---