Fri., Jan. 27, 2012, 11:11 a.m.
IFF: Lockout Worse Than Occupiers
The recent decision by legislative leaders to lock the doors leading to House member office space is troubling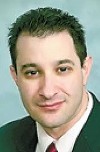 and contrary to the vision of openness embodied by our state's founders and by the designers of the Capitol as it existed in1919. Legislators used to roam and mingle with the citizenry. They had to. By architectural design, the only exit from the House and Senate chambers, prior the renovation and expansion, was through the Rotunda. Now, legislators can remain tucked away behind closed doors all day every day, never having to interact with the public. They can take the back stairs or elevator to their offices in the basement level and re-emerge in a committee hearing room without ever using the common areas where the real people hang out/Wayne Hoffman, Idaho Freedom Foundation. More here.
Question: I agree with Wayne Hoffman that the lockout ordered by House Speaker Lawerence Denney is more bothersome than Occupy Boise encampment. How about you?
---
---