Duncan Koler (pictured), an outspoken opponent of the Coeur d'Alene School District's International Baccalaureate program, reacted strongly to recent Press stories criticizing his positions, including opposition to school social programs. Fumes Koler: "Unfortunately, this is not the first time our Press has abandoned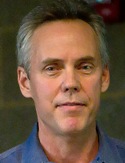 journalistic ethics (an oxymoron?) to feature false, defamatory attacks dressed up as 'news.'" Then this: "Mike Patrick's editorial ran online on 1/14, and in print as his lead editorial on 1/15. First the title: 'Empty stomachs, vacant hearts.' Are you kidding me? (I considered titling this My Turn "Bleeding hearts, empty heads," but decided that would only be half-true.)" Later, Koler says: "I accurately used the term 'social services bureaucracy' to describe the vast scope of undertaking by our school district. I also impliedly questioned whether combining education and social services responsibilities was the best way to deliver both education and the necessary social services, stating, 'I'm not sure that's how I would do it, but that's a fact about what our education system is today.' I did not state that needy children should go hungry or otherwise be deprived of necessary support." More here.
Question: Doth Koler protesteth too much?