Mon., Jan. 30, 2012, 1:43 p.m.
Breakfast Nook Arson Try Fails
A popular midtown breakfast and lunch spot was the target of an arsonist sometime Sunday, reports the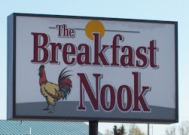 Coeur d'Alene Police Department. City fire and police units responded at 4:45 a.m. to a report of a structure fire at The Breakfast Nook on Fourth Street. Officers arrived on the scene first and made contact with the owner Paul Wiles who was opening up the business for the morning. Wiles noticed a strong odor when he opened the rear door and called 911. No one was inside the building at the time of the call/Coeur d'Alene Press. More here.
Reaction?
---
---