Mon., Jan. 30, 2012, 5:16 p.m.
Johnson Explains Sheriff's Candidacy
A former North Idaho businessman and Post Falls Chamber of Commerce board member who was involved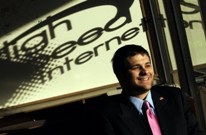 in a high profile shooting in downtown Coeur d'Alene announced he is running for Kootenai County Sheriff. Adam M. Johnson, 27, will seek the elected post as a Republican. He said finding a solution to the jail capacity issue without asking taxpayers to a fund a new building is key for the county, as is trimming the sheriff's office budget while finding ways to financially incentivize deputies to remain here instead of leaving for other departments. Johnson said his recent legal troubles - which include a citation for consuming alcohol from the December 2009 shooting and a 2011 guilty plea for felony heroin possession - don't mean he isn't serious about the job/Tom Hasslinger, Coeur d'Alene Press. More here.
Question: How will Adam Johnson's candidacy affect an increasingly crowded Republican race for Kootenai County sheriff?
---
---