Mon., Jan. 30, 2012, 8:55 a.m.
A Nice Word Of Thanks From Tony
Thank you so much for using the comments by Christie and me in today's Huckleberries. It is greatly appreciated. Please allow me to take this opportunity to make a few observations about the media's coverage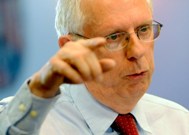 for more than 30 years of the human rights movement to counter the activities of hate activities and hate crimes in the Pacific Northwest. As I have said on numerous occasions, there is no doubt in my mind that the two journalists in the entire United States with the most extensive knowledge and expertise on this subject are Dave Oliveria and Bill Morlin. Between these two excellent journalists, they have a combined history of more than 60 years. I have often referred reporters from such newspapers as the "New York Times" to Dave or Bill for background information. We are fortunate that you both have chosen to stay in the Inland Northwest during your successful journalism career. And the Southern Poverty Law Center was very wise to recently bring Bill on board as part of their blog reporting/Tony Stewart, Kootenai County Task Force on Human Relations. More here.
DFO: 'Tis nice to be lumped in the same sentence as Bill by someone is revered in this community as Tony.
---
---