Prez: Jim Hammond For NIC Prez
Priscilla Bell will retire as North Idaho College president this summer. Jay Lee, NIC's vice president for instruction and one of the most qualified candidates on hand to replace Bell, has accepted the top job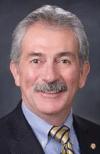 elsewhere. In six weeks, Lee will take the helm at Northeastern Junior College in Colorado. We wish Lee well. His tenure in Coeur d'Alene might have been short, just under four years, but he bolstered NIC's instructional quality during one of the most challenging periods in the college's history, with expansive student growth met head-on by funding challenges. But this editorial is not an ode to a good man going elsewhere. It's an introduction of a good man who has been here all along, who just might be the best person to lead North Idaho College/Mike Patrick, Coeur d'Alene Press. More here.
Question: Would Jim Hammond be a good pick to replace Priscilla Bell as North Idaho College president?
His name is Jim Hammond. Yes, that Jim Hammond.
---
---