Tue., Jan. 31, 2012, 9:56 a.m.
Farmers Market Mulls Dog Ban
The issue of whether dogs should sit and stay out of the Moscow Farmers Market and arguments about the First Amendment got mixed reviews from an advisory board on Monday. No decisions were made. The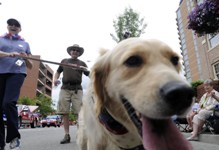 Farmers Market Advisory Board held a special meeting following a decision last week during a Moscow Administrative Committee meeting where the board's input was sought regarding prohibiting dogs at the market. City attorney Rand Fife also proposed an amendment to market policy that would require organizations to apply for space in Friendship Square. Though not included in this year's policies revised by the board, the issue of removing dogs from the market was brought by Councilor Wayne Krauss, said Fife, because of comments he received from the public regarding safety concerns/Brandon Macz, Moscow-Pullman Daily News. More here. (Bart Rayniak SR file photo of a golden retriever in 2010 Coeur d'Alene 4th of July parade)
Question: Do you get miffed when you see owners with dogs at a public event?
---
---