Mon., July 2, 2012, 8:13 a.m.
Hucks: Bear Cub Visits State Senator
Sen. Shawn Keough, R-Sandpoint, is accustomed to seeing moose, turkey, deer and bears while working at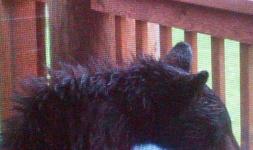 her "day job": executive director for the Associated Logging Contractors. The association's office is at Mica Flats, south of Coeur d'Alene. Shawn tells Huckleberries: "It is not unusual to see all types of wildlife wander through – at a distance." That's why Shawn and other hired hands were surprised to see a black bear cub on the back porch eating cat food Tuesday. The cat grub was intended for a now-grown litter of kittens that the staff adopted after someone dumped them along Highway 95 a few years ago. The commotion in the office as well as the clicks of cameras and cellphones drove little Yogi back into the woods last week. The cub seems to have moved on, much to the relief of the state senator and her staff, which didn't want to see a Mama Bear up close, too/DFO, SR Huckleberries. More here.
Question: Has a wild animal ever entered your home -- not counting human types?
---
---