High Noon: Hart To Read Document
The IRS, Idaho Tax Commission and House District 2 voters may have turned against controversial state Rep.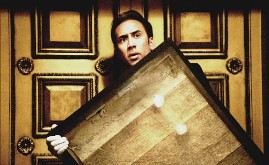 Phil Hart. But the Kootenai County Republican Central Committee still has his back. In an email circulated to local Republicans, county GOP secretary Sheila Waller encouraged partisans to join Hart for a public reading of the Declaration of Independence at 9:30 a.m. Wednesday at Independence Point. Waller told those on her email list that the reading will be complete by 10 a.m., an hour ahead of the Fourth of July Parade on Sherman Avenue in downtown Coeur d'Alene. See flyer here. (AP file photo: Ben Gates (actor Nicolas Cage) stealing Declaration of Independence in movie "National Treasure")
Question: When did you last read the Declaration of Independence?
---
---