A former Kootenai County Jail nurse who also worked in elementary schools has been charged with robbing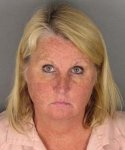 21 banks in Washington, Oregon, California and Montana. Cynthia Lynn Van Holland, 48, is accused of being the "Bad Hair Bandit," a serial robber nicknamed by the FBI because she wore a variety of ugly wigs during the heists, which authorities allege netted about $42,000. Van Holland has been in jail in California since Placer County sheriff's deputies arrested last August after a robbery in Auburn, about 35 miles northeast of Sacramento. Her 26-year-old husband, Christopher Alonzo, an ex-con whom Van Holland met while working as a nurse in Idaho prisons, also was arrested/Meghann M. Cuniff, Sirens & Gavels. More here.
Question: How often do you have bad hair days?