Stephen R. Covey, author of the top-selling motivational book "The 7 Habits of Highly Effective People," died on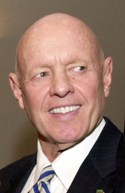 Monday at an Idaho hospital from injuries he suffered in a bicycle accident in April, family members said in a statement. He was 79. Covey, who would have turned 80 in October, was founder of a Salt Lake City-based business that evolved into FranklinCovey, a multimillion-dollar corporate consulting, training and publication enterprise, according to the firm's website. Covey, who earned a master's degree in business administration from Harvard University and a doctorate from Utah's Brigham Young University, shot to fame with the 1989 publication of "7 Habits," his self-help guide to success in business/Laura Zuckerman, Reuters. More here.
Question: Have you been influenced by Covey's book?