Mon., July 16, 2012, 8:34 a.m.
Rep. Hart Rebuffs Finance Questions
Item: Hart rebuffs finance questions: Trustee lawyer at lawmaker's bankruptcy hearing says refusal to answer unusual/Scott Maben, SR
More Info: Idaho state Rep. Phil Hart refused to answer many questions about his finances in a meeting Friday with creditors in his bankruptcy case. An attorney with the U.S. Department of Justice and another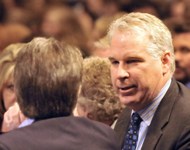 representing the Idaho State Tax Commission grilled Hart about his business interests, income, assets and debts during a meeting conducted by the trustee in Hart's Chapter 13 bankruptcy filing. Hart, a longtime tax protester who owes the IRS more than $550,000 and the state more than $50,000, said he thought many of the questions – including ones about corporations he helped set up and about the Athol house he lives in – were inappropriate or irrelevant to his bankruptcy filing. He repeatedly responded, "I decline to answer." Refusing to answer such questions is highly unusual in such a meeting, said Ford Elsaesser, a Sandpoint lawyer representing the trustee in the case. (SR file photo of Phil Hart)
Question: What do you think was Hart's strategy re: not answering questions?
---
---