Mon., July 16, 2012, 1:43 p.m.
Whisky-ish Liquer Conquers Spokane
The Jagermeister no longer flows as freely as it once did. Across Spokane, fewer shot glasses of the stuff are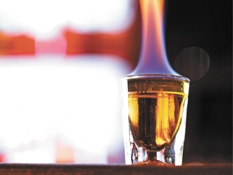 being dropped into glasses of Red Bull and tossed in a single gulp down the gullets of hot-blooded twentysomethings. When the Jagerettes drive over from Seattle, as they still do from time to time, they find a city with less of an appetite for the product they sell, even if the market for undulating female hips continues unabated. Once a dominant liqueur in the area — and still dominant in much of the drinking world — local sales of Jagermeister are off 30 percent from last year, according to Young's Market, a liquor distributor. Bartenders, owners and distributors say the slowing of the river of Jager is not caused by temperance, nor by cost. The culprit, they say, is Fireball/Luke Baumgarten, Inlander. More here. (Young Kwak Inlander photo: A shot of Fireball lights up the bar top at NYNE)
Question: Which bar drink is your favorite?
---
---