Tue., July 17, 2012, 8:40 a.m.
Boy Scouts Reaffirm Policy On Gays
After a confidential two-year review, the Boy Scouts of America today emphatically reaffirmed its policy of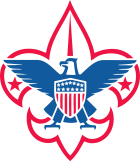 excluding gays, ruling out any changes despite relentless protest campaigns by some critics. An 11-member special committee, formed discreetly by top Scout leaders in 2010, "came to the conclusion that this policy is absolutely the best policy for the Boy Scouts," the organization' national spokesman, Deron Smith, told The Associated Press. Smith said the committee, comprised of professional scout executives and adult volunteers, was unanimous in its conclusion — preserving a long-standing policy that was upheld by the U.S. Supreme Court in 2000 and has remained controversial ever since/Associated Press. More here. (Wikipedia illustration)
Question: Do you support the Boy Scouts stand?
---
---