Tue., July 17, 2012, 8:51 a.m.
Idaho Settles With Ex-ITD Director
The state of Idaho has settled a lawsuit filed by fired former Transportation Director Pam Lowe, who charged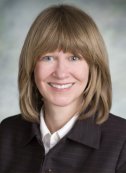 she was illegally let go for standing up to political pressure and was discriminated against because she was female. Lowe was the Idaho Transportation Department's first female director; after she was fired, she was replaced by a man who is being paid $22,000 a year more than she made. No information was immediately available on the terms of the settlement; Lowe had sought reinstatement in her job, back pay and benefits, and attorney fees and costs as well as damages for emotional distress. Just the back pay, benefits and attorney fees would add up to close to half a million dollars. Lowe , a professional engineer, was a longtime ITD employee, starting there in 1993 and rising to director in January of 2007. She was named the department's first female district engineer in 2000/Betsy Russell, Eye on Boise. More here.
Question: Idaho Democrats tweet: "The Governor and GOP cronies in the Legislature punished her for doing her job -- and for being a strong woman." Do you agree/disagree with that evaluation?
---
---