Thu., July 19, 2012, 9:56 a.m.
Casino Features Earth, Wind & Fire
It's time to bust out your hairspray and dust off your platform dancing shoes: Earth, Wind & Fire is coming to a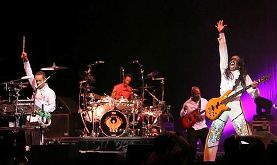 casino near you. Merging jazz, R&B, soul, funk, rock, and yes, even disco, this legendary band has been together since 1969 and is still touring internationally. They are renowned as one of the most successful bands of all time, earning 20 Grammy nominations, and five members of the group are recognized in the Songwriter's Hall of Fame. But, being a big fan, you probably already knew that, right? Catch the show tonight at 7 pm at Northern Quest Casino. Tickets: $30-$60/Pacific Northwest Inlander. (Wikipedia photo of Earth, Wind & Fire performing in 2009)
Question: When did you last see an oldie-but-goodie band in concert? Were you disappointed that the old rockers had lost it?
---
---