Thu., July 19, 2012, 10:14 a.m.
Combined Vet Services Available
On Monday, the Kootenai County Veteran Services Office opened its doors after a month long renovation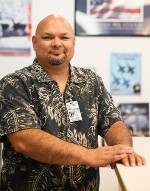 project. The renovation served a two-fold purpose. First, improvements to the customer service area were made, allowing for better customer contact. Second, two offices spaces were added. One office will be utilized as a resource room for work studies while the second office provides for an Idaho Division of Veteran Services (IDVS) officer. That new IDVS officer is Darryl Heisey. Darryl was the previous County Veteran Services Officer, recently selected to represent the State of Idaho's Veterans in the four northern counties of Kootenai, Shoshone, Bonners and Boundary. Scott Thorsness has joined the county as the new County Veteran Services Officer/Kootenai County commissioners news release. More here. (Coeur d'Alene Press photo)
DFO: Darryl Heisey is a good bud who is totally dedicated to veterans services. The state -- and before that, Kootenai County -- is lucky to have him. Coeur d'Alene Press did a feature on Darryl last August here.
Question: Have you or a family member used the veterans services offered by the county of the state? Was it a good experience?
---
---