Thu., July 19, 2012, 12:02 p.m.
High Noon: Quest To De-Fat Fat Cat
Last month Thor got an email from the vet notifying him that he was due for a checkup. I found the note in my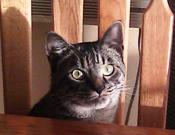 spam filter. Very clever, Thor. But the vet was smarter and mailed him a postcard, too. It read: "Attention Thor! It's time for a visit!" I found the card near the litter box and scheduled an appointment. Now, Thor is an extremely easy-going feline. Nothing rattles him except perhaps an empty food bowl, but more about that later. "You're going to go on a road trip!" I told him. He yawned and covered his eyes/Cindy Hval, SR. More here.
Question: Do you have a pet with a weight problem?
---
---