THURSDAY, JULY 19, 2012, 9:13 A.M.
Sandpoint Lotto Winner: 'Cool, I Won'
In what could be described as the understatement of the century, a Sandpoint man who won $1 million in the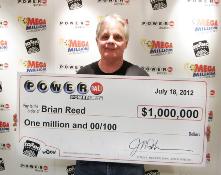 lottery last week told himself, "Cool, I won." Brian Reed was coming home from a fishing trip on Lake Pend Oreille Saturday, when he made a fateful stop at the Travel American Plaza in Sagle. "I asked for a $5 quick pick, but actually had an extra dollar so I got three," Reed said in a press release issued by the lottery Wednesday. The middle pick was the winner. How did the new millionaire react? "I didn't get too excited, I just said 'Cool, I won'," Reed said. Reed told the lottery he plans to invest his winnings in some business ventures and spend more time with his grandchildren/Melissa Deis, KXLY. More here. (KXLY photo)
Question: Yeah, yeah, I know -- a million bucks ain't what it used to be. But how would you react if you won that amount?
---
---