Thu., July 19, 2012, 8:59 a.m.
Tea Party Still Active In Idaho
The surprise story of the 2010 midterm elections was the Tea Party, both in Idaho and across the nation. If was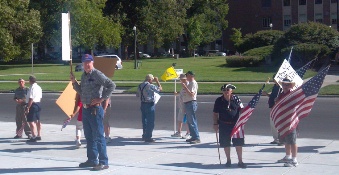 as if the silent majority that former President Richard Nixon referenced awoke from a long winter's nap and made its collective voice heard on Election Day. But the party in Idaho has been less seen and not very vocal since. However, don't be fooled, say some Idaho Tea Party folks. The surprise star of the 2010 election cycle is "just getting warmed up" and is growing "larger and stronger." Tea Party Boise is the largest such organization in Idaho and claims a membership of "about 3,500 people." And its noted skill at getting out the vote on election day 2010 popped up again on the day of the Supreme Court decision on President Barack Obama's health care plan/Parrish Miller, Idaho Reporter. More here. (Idaho Reporter photo of Tea Party Boise protesting Obamacare decision)
Question: Is the Tea Party movement in Idaho as strong today as it was two years ago?
---
---