Fri., July 20, 2012, 3:58 p.m.
Diamond Cup Calls Off 2012 Race
Hydroplane racing will not return to the Lake City this summer after all. Organizers say the Coeur d'Alene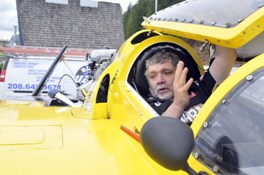 Diamond Cup hydroplane race event needs more sponsors. With sponsorship deals still in the works, the race has been rescheduled from this summer to Labor Day weekend of 2013, said Doug Miller, Diamond Cup president. Organizers of the return to racing announced last month that the boats would be back on Lake Coeur d'Alene for exhibitions and the first racing event held here in racing 44 years. "We will become the No. 1 race in the United States," organizer Dennis Wheeler said at the time. The hydro races were to run southeast of downtown as part of the Diamond Cup Regatta during Labor Day weekend/Scott Maben, SR. More here. (SR file photo: Driver Joe Souza discusses hydroplanes at the June 8 annoucement at Silver Beach that the races would be returning to Lake Coeur d'Alene this fall)
Question: Do you expect the Diamond Cup to be ready to stage races in 2013?
---
---