Fri., July 20, 2012, 5:06 p.m.
No Costumes For AMC Batman Shows
Theaters across the country were on high alert Friday for the regular screenings of Batman's "The Dark Knight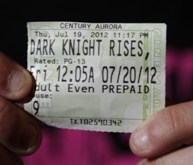 Rises" following the mass shooting in Aurora, Colo., where 12 were killed and dozens more injured. Earlier today, Regal Movie Theaters released a statement saying the chain will "continue to monitor the situation and adjust our security needs as necessary. In the meantime, our thoughts and prayers go out to the victims and their families." AMC theaters across the nation are not allowing any movie-goers into theaters with "face-covering masks, costumes that make guests feel uncomfortable or fake weapons," according to a corporate news release/Jody Lawrence-Turner, SR. More here. (AP photo: Brittany Diemer shows the ticket stub for the Dark Knight Rises Friday morning in Aurora, Colo.)
Question: Are you more/less reluctant to see "The Dark Knight Rises" as a result of the Colorado massacre?
---
---