Fri., July 20, 2012, 1:20 p.m.
Shooter Was Neuroscience Student
Federal law enforcement officials say the suspect in last night's deadly shooting in Colorado is James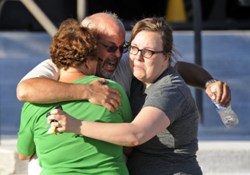 Holmes, a 24-year-old American. Officials believe Holmes killed a dozen people when he fired into a crowded movie theater in a Denver suburb. He was wearing a gas mask and set off an unknown gas in the theater. Holmes is in police custody, and the FBI says there is no indication that incident is tied to any terrorist groups. Holmes was studying neuroscience in a Ph.D. program at the University of Colorado-Denver graduate school. University of Colorado spokeswoman Jacque Montgomery says Holmes was a student until last month. Montgomery says Holmes enrolled in the program in June 2011 and was in the process of withdrawing/AP. More here. (AP photo: Tom Sullivan, center, embraces family members outside Gateway High School where he has been searching franticly for his son Alex Sullivan who celebrated his 27th birthday by going to see "The Dark Knight Rises," movie)
DFO: Now this is getting strange as all get out. Sounds like this guy was enrolled in the same neuroscience PhD program in same UColorado/Denver medical center as my son. He entered program in 2011. My son left for UFlorida in 2009. I met many of the professors of that neurosurgery program during my son's doctorate dissertation. Shudder.
Thoughts?
---
---