Mon., July 23, 2012, 10:21 a.m.
'Dark Knight' Rakes In
Despite the mass shooting at a Colorado movie theater during a midnight screening of "The Dark Knight Rises," the film took in about $162 million in North America over the weekend. Warner Bros. announced it would hold off reporting the film's opening grosses until Monday, but the information was leaked to several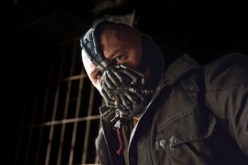 media outlets Sunday. "Out of respect for the victims and their families," the studio said in a statement to ABC News. "Warner Bros. Pictures will not be reporting box office numbers for 'The Dark Knight Rises' throughout the weekend. Box office numbers will be released on Monday." James Holmes, 24, is accused of opening fire on unsuspecting moviegoers Friday during a sold-out midnight screening of the new "Batman" film at a mall in Aurora, Colo., killing 12 people and injuring 58 others. Police said the alleged shooter was wearing a gas mask and was dressed in body armor/ABC News. More here. (This undated film image released by Warner Bros. Pictures shows Tom Hardy as Bane in a scene from the action thriller "The Dark Knight Rises")
Question: Have you seen "The Dark Knight Rises"? Thoughts?
---
---