Tue., July 24, 2012, 8:23 a.m.
Blanchette: Ichiro Trade Good For M's
Going on record here that the Seattle Mariners shouldn't have traded Ichiro Suzuki. They should have made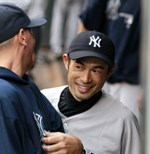 him CEO. At least he grasped that he was no longer a fit with the only Major League Baseball franchise he'd ever known at this particular stage of its patented inertia. Howard Lincoln and his right-hand barnacle, Chuck Armstrong, would never have dared come to that conclusion themselves, nor would they have allowed their general manager to take any independent action. It was Ichiro who asked out. Huck and Chowie have been studiously avoiding any tough decision on the matter – and any matter outside of where to go for lunch – for years now. Just one more reason for the congregation of 29,911 that assembled at Safeco Field on Monday night to murmur some proper amens/John Blanchette, SR. More here. (AP photo of Ichiro for first time in New York Yankees' uniform last night)
Question: I agree with colleague John Blanchette -- the trade of declinging Ichiro was great for Seattle. How about you?
---
---