Tue., July 24, 2012, 1:13 p.m.
Cook is HBO Mystery Blogger
Linda Cook, the mystery commenter formerly known as Almost Innocent Bystander, reads a blog online. Cook outed herself to the Coeur d'Alene Press Monday. The Spokesman-Review has announced it will comply with a judge's order to provide information about her identity today. (Photo by Phantom Photographer)
North Idaho Republican political campaign worker Linda Cook says she is "almostinnocentbystander," the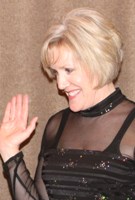 anonymous online commenter on the Spokesman-Review website who allegedly defamed Kootenai County Republican leader Tina Jacobson. Cook worked in North Idaho on the Vaughn Ward campaign for Congress two years ago, a bid that fell short against current U.S. Rep. Raul Labrador. Ward said Cook was a campaign worker for him for nine months, but he declined further comment. Cook, 55, of Rathdrum, also has worked on campaigns for former Idaho state Sen. Mike Jorgenson, current Idaho state Rep. Kathleen Sims, and was a congressional aide for late U.S. Rep. Helen Chenoweth-Hage of Idaho. All are Republicans. A judge in 1st District Court earlier this month ruled the Spokesman-Review must give Jacobson and her attorney information that could lead to the identity of almostinnocentbystander. The newspaper won't appeal Judge John Luster's recent order/David Cole, Coeur d'Alene Press. More here. (Photo: Linda Cook being sworn in as an officer in a local Republican Women's club)
Thoughts?
---
---