TUESDAY, JULY 24, 2012, 5:28 P.M.
OTV Review: Donut Burgers!
Anyway, I had already been done with my shift for an hour or so and was getting just a skosh tipsy wipsy and extremely tummy-rumbly. Suddenly, a figure emerged at me from out of the smoky darkness of the bar,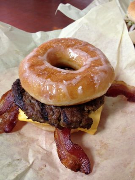 carrying an armload of white Styrofoam to-go boxes. It was one of my most beloved regulars. "Hungry? You'll never guess what I found at this food truck down on Sherman." I cracked open one of the boxes, not totally sure what to expect, and there it was, something I'd only ever heard of as a gluttonous internet food meme, something I was terrified of and delighted by simultaneously at the same time, something enough to make Paula Deen's boobs bounce excitedly at the possibility of adding new calories to their bodacious bounty. It gleamed in front of me, reflecting the colored lights of the dance floor like a golden, sugary disco ball. Behold: the Glazed Donut Burger/OrangeTV, Get Out! North Idaho. More here.
Question: Are you kidding me?
---
---