WEDNESDAY, JULY 25, 2012, 2:12 P.M.
Carlson: In Praise Of Jack Buell
It is often said "power corrupts," and "absolute power corrupts absolutely." There are exceptions to that rule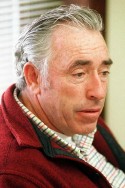 and one exists in Benewah County. For almost 40 years one person has worn lightly with grace and humility the crown of absolute political power in this north Idaho county: County Commissioner Jack Buell. Now 76 years young he has served the public interest well, won many friends along the way, and most would admit made some enemies also. Jack wears his heart on his sleeve. He personifies the old adage, "show me a man with no enemies and I'll show you a man with no character. If you stand for anything in this world you make enemies." By this definition Jack may have lots of character. Two entities that have felt the lash of his tongue and done little to endear themselves to him over the years are the Coeur d'Alene Tribe and the Idaho State Police/Chris Carlson, The Carlson Chronicle. More here.
Question: Do you consider long-time Benewah County Commissioner Jack Buell a good guy or a bad guy?
---
---