Wed., July 25, 2012, 2:35 p.m.
Cook-Jacobson Story Goes On NPR
A lawsuit in north Idaho over anonymous comments posted in an online forum attracted national attention.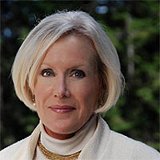 Now, the commenter at the center of that dispute has unmasked herself. The case reveals a rift within the north Idaho Republican Party. Linda Cook of Rathdrum, Idaho, pictured, is a former congressional aide and long-time Republican campaign worker. Back in February, Cook made anonymous comments on a north Idaho blog hosted by the Spokane Spokesman-Review newspaper. Using the pseudonym "almostinnocentbystander" Cook asked a question insinuating that the chair of the local party, might have pocketed $10,000 in party funds. Party chair Tina Jacobson called for an audit and filed a defamation suit. But Cook says she wanted to use the anonymous forum to address a feud over party expenditures/Jessica Robinson, National Public Radio. More here including audio of story with Linda Cook comment.
DFO: Martin Kaste, the NPR reporter from Seattle who interviewed me last week for another story that's about to come out, tells me that the audio version of the story played just in the Northwest, while the print version went national.
Thoughts?
---
---