Thu., July 26, 2012, 8:57 a.m.
Farris: Have TV Spot, Need Cash
First-time Democratic candidate Jimmy Farris has a buoyant 60-second spot that he hopes will air this fall in his race against freshman GOP Congressman Raul Labrador. Titled, "A Future Leader, Now," the video is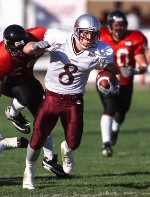 available only on the Web. Farris raised about $37,000 through June 30, compared to Labrador's $628,000 raised and $203,000 in the bank. Farris said Wednesday that he still plans to tap his roots as a former NFL player and needs to spend $300,000 to be competitive. His newcomer status has been a hurdle, Farris said, though he says he's raised his profile with retail campaigning in recent months. He hopes to reach $150,000 in contributions by Sept. 30. "Now when I'm making phone calls people know who I am," Farris said. Farris had hoped his NFL connections would be pivotal, but he has received just $4,000 from four contributors: $500 each from NFL veterans Alge Crumpler, Bryan Scott and Ryan Stewart, and $2,500 from Atlanta Falcons owner Arthur Blank/Dan Popkey, Idaho Statesman. More here. (AP photo of Farris in 2000 during his days as a Montana Grizzly)
Question: Farris probably won't upset well-heeled Congressman Raul Labrador. But do you consider it a good sign for Idaho Democrats that they're able to attract new, young blood to run for office?
---
---