Thu., July 26, 2012, 5:14 p.m.
Johnson: Mitt Bombs On World Stage
Today Mitt Romney got a nasty taste of what political life is like under a foreign media microscope. He must be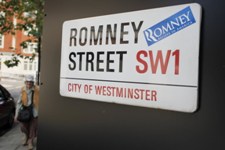 wondering why he didn't stay home. By the measure of world-wide Twitter trending (#Romneyshambles), not to mention the Brit papers, Romney's visit to London has gone over there about as well as the Norman conquest. By one account Romney insulted all of England by wondering if the Brits are ready for prime time when it comes to hosting the Olympics; couldn't seem to remember the name of the Ed Miliband the leader of Labour Party; disclosed (simply not done apparently) that he had met with the head of MI6, the super secret British intelligence service that prides itself on having almost no public profile, and misused some common English words that have considerably different meaning in the mother country/Marc Johnson, The Johnson Report. More here. (AP photo)
Question: How does Mitt recover from this pratfall?
---
---