Thu., July 26, 2012, 11:47 a.m.
Poll: Only 49% Say Obama Christian
Forty-nine percent of voters identify President Obama as a Christian, a new poll says, and the others say that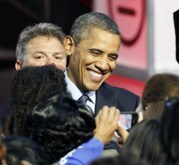 they don't know or that he is a Muslim. "Nearly four years into his presidency the view that Barack Obama is Muslim persists," says the survey from the Pew Research Center's Forum on Religion & Public Life. According to the poll on religion and politics, 17% say Obama is a Muslim, while 31% say they do not know his religion. "Fewer say Obama is Christian -- and more say he is Muslim -- than did so in October 2008, near the end of the last presidential campaign," Pew reported. "The increase since 2008 is particularly concentrated among conservative Republicans, about a third of whom (34%) describe the president as a Muslim"/David Jackson, USA Today. More here. (AP photo)
Question: If President Obama says he's a Christian, that's good by me. How about you?
---
---