Thu., July 26, 2012, 12:06 p.m.
Teen Romance = 63 Married Years
Harold "Pete" Clarke started working at a small South Hill grocery store at age 12. By 16, his duties had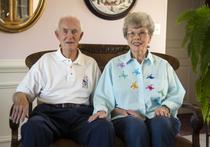 expanded to grocery delivery. One day he dropped off groceries at a house and was instantly smitten by the beautiful girl who answered the door. Her name was Ruth Moline, and Pete made sure her house was always on his route. "I'd go like a bat out of hell and deliver all my boxes," he recalled. "Somehow I always ended up at her house." Ruth didn't mind. She said, "I kept him there a couple times." In fact, she kept him a bit too long. "One day the grocery store owner called looking for Pete and they found him at my house." Pete grinned. "He suggested I not do that"/Cindy Hval, Love Stories, SR. More here.
Question: I almost married my first serious girlfriend as a teen. Glad I didn't. How about you?
---
---