Fri., July 27, 2012, 1:19 p.m.
Column: Don't Count LeFavour Out
A long-held principle in electoral politics: Until the votes are counted, there are no absolutes – no 100 percent chance of winning, no zero percent chance of losing. Even in a race that looks like a slam dunk, there's a little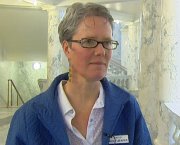 room for long-shot possibility. So the newly-posted Facebook page from 2nd district Democratic challenger Nicole LeFavour, "Why Nicole can win," makes for provocative reading. Widespread wisdom is that six-term Republican incumbent Mike Simpson is solidly positioned for a seventh term; is there an argument to the contrary? (Bearing in mind, it would be political malpractice for her not to pitch one.) To start: Idaho's congressional districts change this year, and the second now includes more of Boise than before, including nearly all its Democratic-leaning voters. "Some consider this district stronger for Democrats than Idaho's first congressional district was when Walt Minnick was elected to U.S. Congress in 2008." Maybe. But Minnick won in unusual conditions, and lost two years later/Randy Staplius, Ridenbaugh Press. More to come.
Question: Who is the best bet to score an upset win in an Idaho election?
---
---