Mon., July 30, 2012, 8:56 a.m.
Editor: Legal Action Vital For SR
The Spokesman-Review has engaged in some important and costly legal challenges in recent months that produced mixed results, but our watchdog efforts remain an integral component of the newsroom's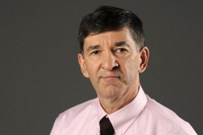 commitment to our audience and the community. In one case, we lost in the effort to protect an anonymous commenter on one of our most popular online blogs, while in another case we succeeded in persuading a federal judge to unseal transcripts of the secretive query of jurors who convicted former Spokane police Officer Karl F. Thompson Jr. in connection with his deadly confrontation with Otto Zehm. Meanwhile, our legal counsel is helping us push for release of disciplinary records involving a few public school teachers in the region. The case involving the anonymous comments posted on Huckleberries Online, a blog written, compiled and maintained by veteran Idaho journalist Dave Oliveria, was clearly the most complicated of the recent challenges/SR Editor Gary Graham. More here. (SR photo of Editor Gary Graham)
Thoughts?
---
---