Tue., July 31, 2012, 1:51 p.m.
Foster: NBC Smart To Tape-Delay
In his latest Reading the Race blog post, John M. Foster applauds the synergy between the Olympics and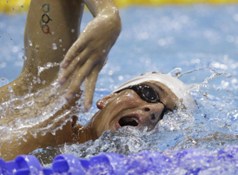 NBC advertising following the Individual Medley swim race won by Ryan Lochte of USA over rival American Michael Phelps, the Olympic hero from four years ago who finished a distant fourth. Remember? Foster: "Immediately after the race ended, excited television announcers wound down from the finish and transitioned to a commercial break. What followed was a series of 30-second advertisements featuring Lochte, the hero from moments earlier. Ad after ad featured the handsome American swimmer promoting everything from razors to sports drinks. The remarkable thing was how seamlessly broadcaster NBC integrated those ads into the coverage. The reason has been the subject of much attention and some outrage since the Olympics began: tape delay." More here. (AP photo of gold medal swimmer Ryan Lochte)
Question: Are you bothered by tape-delay coverage of the Summer Olympics?
---
---