Fri., June 1, 2012, 1:49 p.m.
Judge Mulls HBO Commenters Suit
A lawyer for The Spokesman-Review newspaper's website argued today that people should be allowed to post anonymous comments on its blogs without fear of being identified and then sued. But a Republican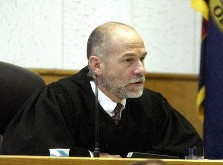 political leader in North Idaho, who is seeking the identities of three individuals who commented anonymously about her, argued that she was libeled by a comment and has the right to sue for damages. District Judge John Luster in Coeur d'Alene said he would rule later on whether a subpoena sought by Kootenai County Republican Central Committee Chairwoman Tina Jacobson against The Spokesman-Review should be quashed. Jacobson is seeking the identities of three commenters, including one who suggested in a posting that she might have stolen money from the GOP. "We're here for the rights of people to speak anonymously on the Internet," said Duane Swinton, attorney for The Spokesman-Review, based in Spokane. "We're here as an advocate for First Amendment rights"/Nicholas Geranios, AP. More here. (SR file photo of Judge John Luster)
Thoughts?
---
---