Mon., June 4, 2012, 9:50 a.m.
Recallers Complying w/Name Deletion
Some have wondered whether any steps have been taken by the Souza-Orzell-Sims Recallers to remove names from petitions of individuals who have had second thoughts about the recall effort. The short answer is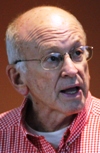 yes. City Clerk Susan Weathers responded to my inquiry into this situation this morning with this email: "I received information from the people who had requested from me that their names be removed, they received a certified letter from Mr. Orzell noting that as soon as he finds their names he will contact them to remove their names from the petitions. Today, one of the individuals told me he just received another letter from Mr. Orzell telling him the dates and times he may go to their office to remove their names. So it appears that they are in the process of removing their names." In letters to Recall organizer Frank Orzell (pictured) earlier this spring, Weathers had cautioned that the names needed to be removed before she could perfect the petitions. You can read those letters here and here.
Thoughts?
---
---